Learn about the hard working men and women who started Avid Technologies
Troy Bundy
Troy naturally excelled at both math and engineering sciences early on and developed a strong appreciation for both after being introduced to the subjects by his father and late grandfather while still in elementary school. By the time he reached high school, Troy was accepted into a selective program with the (DOD) where he served as an engineering apprentice. His accomplishments in high school in this area prompted the DOD to award him the Stokes Educational Scholarship  to attend the Massachusetts Institute of Technology (MIT) where he degreed in both electrical engineering and computer science. After graduation, Troy decided to pursue software engineering as his mainstay and landed primarily cutting-edge software development jobs in that regard in the following succession – DoD for 3 years, then TRW Space Systems for 6 months, then Conquest, Inc. for 5 years, and then finally Boeing, Inc. for 2 years.
In
early 2003, Troy Bundy and Adrian Irby met to start the planning of a new firm, Avid Technology Professionals. The firm got its start in September of 2004. Troy's role in the business early-on was heaviest in the operations department and he spearheaded the setting up of the backoffice infrastructure (to include accounts, HR, IT, compliance, social events, employee concerns, and recruiting).  He also conducted business development (landing of new contracts) as well as working on multiple contracts as a client-facing staff member. Troy has also spearheaded the opening of two new ATP focuses – a new training arm of the business called CyberKings, and the creation of business process improvement software Apps centered around pattern matching. Both of these offering are expected to grow over the coming year. To date, ATP has employed over 160 staff and been on over 100 contracts in the past 15 years including 9 prime contracts in places like the US Air Force, FBI, Navy, State of Maryland, and DoD Agencies. In his spare time, Troy enjoying bicycling, playing chess, power walking competitions with his FitBit, spending time with friends and family, and contributing to worthwhile efforts like participating as an educational counselor for MIT, his alumni mater. He has also recently been involved in a climate change initiative through an MIT alumni group.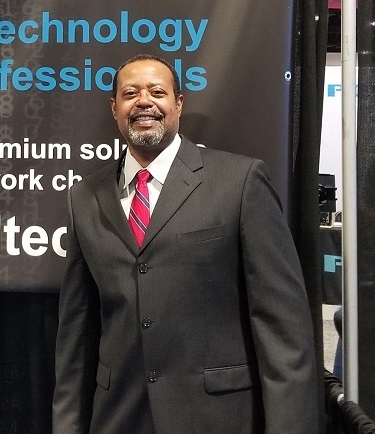 Adrian Irby
Adrian decided in high school to pursue a career in electrical engineering and began his formal education at Colorado State University in Fort Collins, Colorado. After acquiring his Bachelor of Science degree in Electrical Engineering, he began his career with the Department of Defense in Maryland, where he originally worked with procuring various digital communications systems for the government. During this time, Adrian also began and completed a program to obtain his Master of Science degree in Electrical Engineering from George Washington University in Washington, DC. Upon graduation, he began work with digital processing equipment and programmed digital signal processing algorithms into that equipment to analyze various types of data. During this period, he completed a program at Central Michigan University at Fort Meade, Maryland to acquire his Master of Science degree in Administration, with a focus on Information Resource Management. He then undertook a cross-organizational assignment at another Agency, where he completed computer network installs at US Embassies abroad and in the local DC area.
Upon returning to his previous organization, Adrian acquired the Defense Acquisition Workforce Improvement Act's Level III certification in Acquisition Program Management. In this role, he has been involved in the acquisition of a mission management system and a high priority life cycle support system for the Department, and would later go on to obtain Community Officer Status.
As a business owner of Avid Technology Professionals (ATP) since 2004/2005, Adrian has been involved in recruiting, business development, employee relations and management, contract acquisition and execution, and proposal development. Adrian has successfully applied innovative approaches to create the business results necessary to thrive in the ever-competitive Intelligence Community. Adrian has also carried forward prior IC relationships into ATP subcontracts and directed support opportunities. As a key ATP business developer Adrian has landed the company on many of the 100 contracts it has been involved on. Adrian has dealt with many initiatives to help grow the company employee base and has helped congregate getting the message out about ATP's many IT services capabilities and accomplishments to potential customers. Adrian believes in creating outstanding relationships/associations/partnerships that benefit all involved.
Avid Technology Professionals has employed over 160 staff and been on over 100 contracts in the past 16 years including 9 prime contracts in places like the Intelligence Community, US Air Force, FBI, Navy, State of Maryland, and DoD Agencies.